Back
Last Updated: Feb 17 2023, 11:30 AM IST
Can a Bajaj Pulsar 150 ride from Hyderabad to Dhanushkodi?
We know that visiting serene beaches after leaving a big metropolis makes you pleased. Every rider dream of getting on their bike and beginning the journey. However, travelling by car is not as simple as we imagine. Comfort is required for prolonged periods spent in one posture, high mileage is required for long-distance riding, and assistance is required for safety.

From Hyderabad to Dhanushkodi, the journey can either be a nightmare or a wonderful experience. Naturally, the experience will depend on the motorcycle you select. The Bajaj Pulsar can comprehend both the needs and wants of the rider. Every rider needs a comfortable, high-mileage, fuel-efficient bike in addition to wanting a stylish motorcycle.
Due to this, the Bajaj Pulsar 150 was introduced. This bike is suited for riders who enjoy the open road. The Pulsar 150 is a good motorcycle that will not be a burden on your pocket.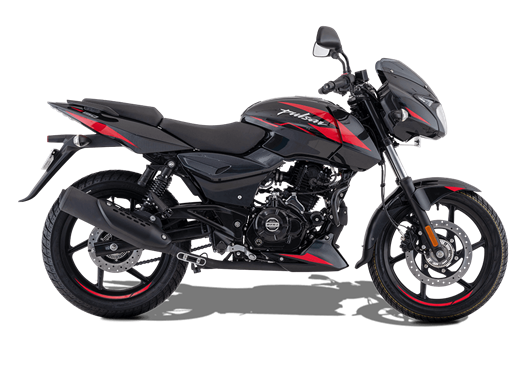 Moreover, since the bike is reasonably priced and fuel-efficient, there is no extra charge for fueling the vehicle.
The vehicle's style and powerful engine will impress all team members. Take freeways, rocky roads, or dirt paths; you'll be safe. Bajaj outfitted this bike with features to rival any high-end touring bike. It goes without saying that if you choose to travel with the Pulsar on the roads from Hyderabad to Dhanushkodi, you will be able to cruise along them.
Introduction to Pulsar :
Bike riders will be surprised to learn that the entry-level performance motorcycle market in India was revolutionized by the Bajaj Pulsar 150. A strong fuel tank with shrouds and a distinctive wolf-eyed headlamp makes the bike intimidating.
The motorcycle has a premium feel thanks to the 3D Pulsar emblem on the tank. The twin LED strip taillights and the Pulsar 150's sleek, angular tail section make the bike distinctive. The Pulsar 150's captivating body graphics, blacked-out engine, and chrome-covered exhaust add to its allure.
Everything about the powerhouse :
The 149cc air-cooled, single-cylinder, twin-spark engine that powers the Bajaj Pulsar 150 produces a maximum power output of 14 bhp at 8,000 rpm and a maximum torque output of 13.4 Nm at 6,000 rpm. The engine is coupled with a five-speed transmission. Bajaj's DTS-i technology, which improves performance, is included in the engine.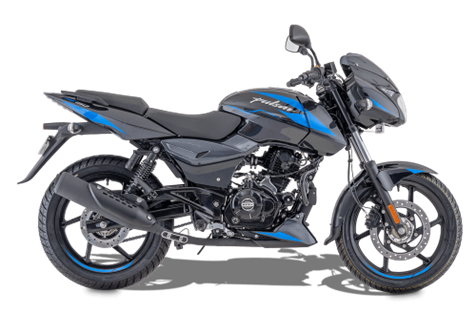 Rapid and linear acceleration is occurring. The motorcycle has a top speed of 111 km/h and can accelerate from 0 to 60 km/h in just 5.6 seconds. Excellent cornering performance and confidence-inspiring handling make for lively riding.
No extra fuel expenses :
The 149cc engine has been optimized to provide power and outstanding fuel economy. Complete combustion is ensured by the double sparks, which increases mileage. 65 kpl is an excellent average mileage for the Pulsar 150.
Some more attractive features :
Many characteristics are included in the Bajaj Pulsar 150. Wolf-eyed pilot lamps, a smoked windscreen, a digital-analogue instrument cluster, a carbon fiber texture on the instrument cluster, and clip-on handlebars are all included with the motorcycle. The distinctive LED tail lamp is present at the back. In addition, 130mm drum brakes are used at the back and 240mm disc brakes up front to control braking.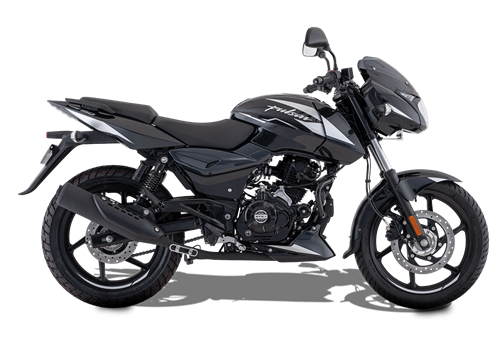 With a 15-litre fuel tank, the Pulsar 150 has an excellent range for lengthy rides. The motorcycle's tyres are tubeless. The rider and the pillion have a comfortable ride thanks to the single-piece seat.
Safety comes first :
There are three different versions of the Bajaj Pulsar 150, each with unique braking characteristics. The Neon and Single-Disc versions provide a 130 mm rear drum brake with a speed sensor and a 230 mm front disc brake. Across all of its variations, this motorcycle's braking capability is very good. Although the brakes have a soft feel, the road bite is comforting.
Specifications :
Type : 4-Stroke, 2-Valve, Twin Spark BSVI Compliant DTS-I FI Engine
Displacement: 149.50 cc
Max Power: 10.3 kW (14 PS) @ 8500 rpm
Max Torque: 13.25 Nm @ 6500 rpm
Fuel Tank Capacity: 15 L
Tyres- front :
Pulsar 150 twin disc: 90/90 17 tubeless
Pulsar 150: 80/100 17 tubeless
Pulsar 150 neon: 80/100 17 tubeless
Tyres- Rear :
Pulsar 150 twin disc: 120/80 17 tubeless
Pulsar 150: 100 / 90 17 tubeless
Pulsar 150 neon: 100 / 90 17 tubeless
Available colours :
Pulsar 150 twin disc: Sparkle Black Red, Sapphire Black Blue & Sparkle Black Silver
Pulsar 150: Sparkle Silver Black, Sparkle Red Black & Sapphire Black Blue
Pulsar 150 neon: Lime Green, Red & Silver
Price :
Pulsar 150 twin disc: 1,14,000+
Pulsar 150: 1,11,000+
Pulsar 150 neon: 1,04,000+
Final Words
Hyderabad is approximately 1,159.8 km away from Dhanushkodi, and Bajaj Pulsar 150 is the best choice for its comfortable seating arrangement, performance, mileage, and fuel efficiency. One of the top-performing motorcycles in the 150cc class is the Bajaj Pulsar 150.

The motorcycle's standout features are its sleek looks and efficient engine. Despite the dated-looking style, the total package is rather good considering the low price. Bajaj has been selling the Pulsar 150 for a long time, demonstrating the motorcycle's popularity in the Indian market.
Recent Articles
Check out the prices of all the bajaj 250cc bikes in India?
Know More

Which is the best 200cc naked bike in India?
Know More

How many miles does a 125cc engine last?
Know More

What are the best naked 250cc bikes under 2 lakh?
Know More

What is the best naked bike between 150cc-250cc?
Know More

Tag Cloud