Back
Last Updated: Feb 16 2023, 11:30 AM IST
Which is better, the Pulsar NS 200 or the Pulsar NS160?
The new Bajaj Pulsar NS160 is the younger sibling of the Pulsar 200 Naked Sport. Even though both bikes share the same brand and logo, they have several differences. Even among 200cc or 160cc motorcycles, some models get great fuel efficiency and are inexpensive.

These two pulsar bikes will not let you down when it comes to looks, performance, comfort, and handling. In addition to providing the regular commuter with a taste of power, they also present aspiring enthusiasts with a cost-effective and exciting choice.

Here is a comparison of the NS 200 and the NS160 currently available in India.
Bajaj Pulsar NS200
It is quite well-known among tour fans, and this bike has been demonstrated to be an affordable sports tourer. It has a 199.5 cc, liquid-cooled, fuel-injected, single-cylinder engine that delivers around 23.9 bhp maximum power and 18.4 Nm of maximum torque.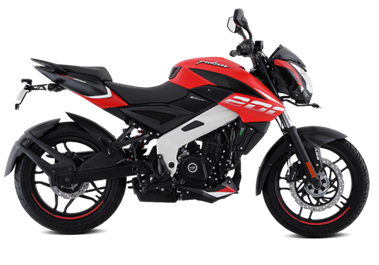 The Pulsar NS200 engine is paired with a six-speed transmission compared to the previous bike's five-speed transmission. It is the most powerful bike available in its variant. Therefore, it is relatively quick to induce addiction to the adrenaline surge of speed. The semi-digital digital instrument is visible and simple to use.
Pulsar NS200 Key Specs :
Price: Rs. 1.39 lakh+
Engine displacement: 199.5 cc
Maximum power: 24.5 PS at 9750 rpm
Fuel Type: Petrol
Cylinders: 1
With our unique Triple Spark DTS-i 4V FI 6-speed gearbox engine, which generates 18 kW (24.5 PS) of raw power and 18.74 Nm of torque, you can command absolute power. High performance is guaranteed at high temperatures thanks to the sophisticated liquid cooling system. The most aggressive and powerful street fighter in the 200cc motorcycle segment is in true "Naked Sport" fashion! Use the perimeter frame to comfortably navigate every bend.
Design :
The Pulsar NS200 features gas-charged Nitrox mono-shock suspension at the back and traditional front forks up front. The motorcycle is mounted on fashionable 17-inch mag wheels with a front tyre with a section size of 100 and a rear tyre with a section size of 130.
Safety :
Disc brakes are used in the front and rear brakes. The rear disc brake has a 230 mm disc with a single calliper system, while the front disc has a 280 mm rotor with dual callipers. The ABS module for the Pulsar NS200 is the same component as is offered on the Pulsar RS200.
Features :
The semi-digital digital instrument is visible and simple to use. It has a speedometer, fuel level indicator, trip meter, and RPM blinker. Overall, the NS line has remarkable buildability.

Bajaj Pulsar NS200 is aerodynamically engineered to achieve the next level of excellence.
Bajaj Pulsar NS160
Regarding a motorbike sector in India that deserves more recognition, it is the 160cc class.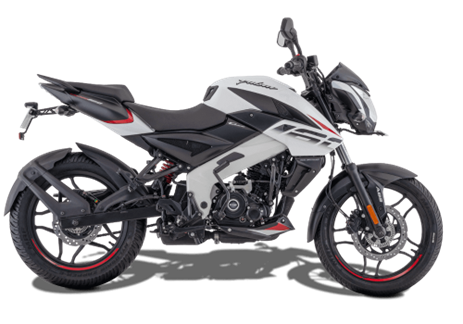 Pulsar NS160 comes in this category that has achieved a balance between economical commuters and performance-focused machines. Due to their speed, efficiency, and dedication to maintenance and service expenses, 160cc bikes are trending in the sports bike market.
Key Specs
Price: Rs. 1.04 lakh+
Engine displacement: 149.5cc
Maximum power: 13.25 Nm at 6500 rpm
Fuel Type: Petrol
Cylinders: 1
Looks :
The Pulsar NS160 shares the innate masculine appeal of the Pulsar NS series motorbikes. It looks quite athletic and takes design string from its older sibling. It has a bright halogen headlamp up front with two pilot bulbs. The motorcycle's side profile is fairly aggressive, with strong tank shrouds.
Handling :
The NS160 is not just strong but also a fuel-efficient commuter. In actual riding circumstances, you can anticipate a return of about 45 km/l. In addition to Bajaj's DTS-i technology and 5-speed manual transmission, the engine has a fuel injection system.
Performance :
A 160cc oil-cooled engine and single-cylinder that complies with BS6 powers the Pulsar NS160. Maximum torque is produced by this BS6 motor at 9000 RPM and 7250 RPM, respectively. This Pulsar is a great choice for riding on city streets due to its massive torque within a useful rpm range.
Comfort :
It has a telescopic fork up front and mono-shock absorbers at the back. The motorcycle has disc brakes at either end for braking, along with ABS as an added safety feature.

Regarding the fastest bike, there's nothing quite as enjoyable as riding one yourself. But riding a bike may also be gratifying if you have a bike that matches your demands and is comfortable.
Final Words
In today's society, commuters want more than simply an economical and effective mode of transportation. They want style and steady performance from their automobiles. In addition, a significant proportion of consumers with consumer spending are the fairly young generation, leading to great bikes in India.
Recent Articles
Check out the prices of all the bajaj 250cc bikes in India?
Know More

Which is the best 200cc naked bike in India?
Know More

How many miles does a 125cc engine last?
Know More

What are the best naked 250cc bikes under 2 lakh?
Know More

What is the best naked bike between 150cc-250cc?
Know More

Tag Cloud