Back
Last Updated: Feb 17 2023, 11:30 AM IST
Which bike is better for racing, Pulsar NS200 or RS200?
Due to the release of the Pulsar NS200, a naked bike, and the Pulsar RS200, a fully faired version, Bajaj Auto has a strong hold on the 200cc sector. These motorcycles have incredible performance that might surpass that of their rivals. But imagine if they were pitted against one another for a greater racing experience. Guess who will win.
Pulsar RS200 vs NS200 - Design
The Pulsar RS200 stands out from the Pulsar NS200 mostly due to its design. The new RS200 differs significantly from its bare sibling in appearance thanks to its hefty, imposing, and sporty dual headlight design. The latter has an aggressive stance, a narrow frame, and sharp lines. In place of the integrated unit found on the bare body, the tail portion is also equipped with a floating clear lens LED tail lamp. The RS200 should be described as extravagant in its appeal if the 200 NS may be described as retrained and crisp in appearance. In either scenario, the bikes' designs function well, each with a distinct appeal.
Colour

Bajaj Pulsar NS200

Bajaj Pulsar RS200

Available Shades

Satin Blue / Burnt Red / Metallic Pearl White / Pewter Grey

Burnt Red / Pewter Grey / White

Electricals

System

DC, 12V, 8Ah VRLA

DC, 12v, 8AH VRLA

Headlamp

H4 Blue Tinge (12V 55/60W), With AHO (Auto Headlamps On)

55w low beam projector, and 65w high beam projector

Fuel Tank

Total litres

12 L

13 L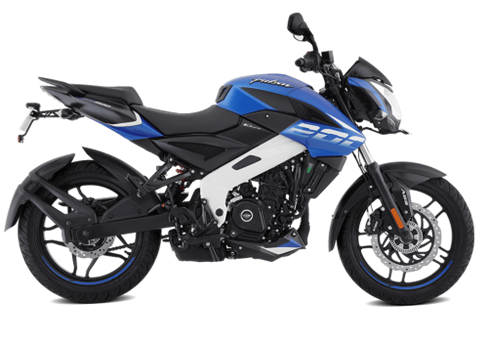 Pulsar RS200 vs Pulsar NS200 - Power Engine
Both bikes share the same 199.5cc single-cylinder engine, which on the Pulsar NS200 in carbureted form generates 23.52 PS at 9500 RPM, while the RS 200 has a fuel injection system, which boosts the output to 24.5 PS at 9750 RPM. Additionally, the RS200 now has 18.6 Nm more torque than the NS200, which was 18.3 nm. Both engines use three spark plugs and thus are liquid-cooled. The same 6-speed gearbox transmits power to the back wheel on both models. The Bajaj RS200's increased power is offset by its increased size, as the fully faired variant weighs 165 kg instead of the naked sibling's 145 kg. Bajaj asserts that the RS200 has a higher top speed than the Pulsar NS200, at 141 km/h, as opposed to 135 km/h.
Engine

Bajaj Pulsar NS200

Bajaj Pulsar RS200

Type

4-Stroke, SOHC 4-Valve, Liquid Cooled, Triple Spark, BSVI Compliant FI DTS-i Engine

Fuel Injection System, Triple Spark 4-Valve 200cc BSVI DTS-i FI Engine, Liquid Cooled

Displacement

199.5 cc

199.5 cc

Max Power

18 kW (24.5 PS) @ 9750 rpm

18 kW (24.5 PS) @ 9750 rpm

Max Torque

18.74 Nm @ 8000 rpm

18.7 Nm @ 8000 rpm

Dimensions

L x W x H

2017mm x 804mm x 1075mm

1999mm x 765mm x 1114mm

Ground clearance

168 mm

157 mm

Wheelbase

1363 mm

1345 mm

Kerb weight

159.5 kg

166 kg
Pulsar RS200 vs NS200 - Braking Technology
Additionally, the new Pulsar RS200 does come standard with single-channel ABS, and the 300 mm front disc—rather than the 280 mm front disc found on the Bajaj NS200— improves stopping power. In terms of similarities, the RS200 and 200 NS share a perimeter frame, an instrument panel, 4-spoke split alloy wheels, a 230 mm rear disc brake, telescopic forks up front, and a mono-shock suspension system at the back.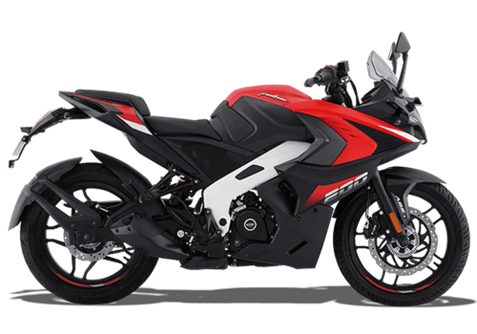 Brakes

Bajaj Pulsar NS200

Bajaj Pulsar RS200

Brakes Front

Dual Channel ABS, 300 mm disc

Single Channel ABS, 300 mm Disc (ABS)

Brakes Rear

230 mm dia disc with ABS

230 mm Disc

Suspension

Front

Telescopic with Anti-friction Bush

Telescopic with anti-friction bush

Rear

Nitrox mono shock absorber with Canister

Nitrox mono shock absorber with canister

Tyres

Front

100/80-17 52 P Tubeless

100/80-17 52 P Tubeless

Rear

130/70-17 62 P Tubeless

130/70-17 62 P Tubeless
Final Words
The end decision depends upon what you need in the end. One of the greatest bikes you can purchase for under Rs. 1 lakh is the 200 NS. However, if you increase your budget by Rs. 25,000–40,000, the RS 200 will come with fuel injection, ABS, projector lighting, and a complete fairing. Both bikes radiate velocity, strength, and acceleration. The power engine in both bikes is promising and delivers the energy you need to win any race. The Pulsar NS200 is the best option if you're looking for a commuter sports bike. The RS200 is more worth your money if you intend to achieve more with your bike. What, then, tickles your fancy?
Recent Articles
Check out the prices of all the bajaj 250cc bikes in India?
Know More

Which is the best 200cc naked bike in India?
Know More

How many miles does a 125cc engine last?
Know More

What are the best naked 250cc bikes under 2 lakh?
Know More

What is the best naked bike between 150cc-250cc?
Know More

Tag Cloud