Back
Last Updated: Feb 16 2023, 11:30 AM IST
Is a 100cc Bike Suitable for Hill Regions?
Indian riders have always had a strong affection for bikes in the lower cc category for exploring hilly regions. They even appreciate the agile nature of 100cc bikes. Despite having a smaller engine, these bikes offer the best pickup and speed compared to other bikes because they have a two-stroke motor. In addition, we have seen riders opting for bikes that are lightweight in design and have excellent durability.

We at Bajaj understand riders' love for hills and terrain. This is why we bring the kadak style that lets you glide through it all. However, we know when the roads are tough and rigid, you need a superior engine, advanced comfort, and a feather-light bike. With the 100cc range, we assure you that all you riders will continue to consider this segment bike their lifeblood. Our Platina 110, Platina 100, and Bajaj CT 100 are fit to be your travel buddies. These bikes take care of your comfort, style, performance, and passion.
Bajaj Platina 110
This 100cc segment bike understands all the challenges a rider faces while moving uphill. For this reason, the Platina 110 happens to be the first ever bike with ABS (Anti-Lock Braking System) as a standard protection system. The ABS uses an electronic controller to monitor the wheel speed during rapid or intense braking and, through a feedback loop, quickly release and reapply the brakes. The mechanism accomplishes this by preventing the wheel from "locking," which could otherwise result in loss of control or sliding.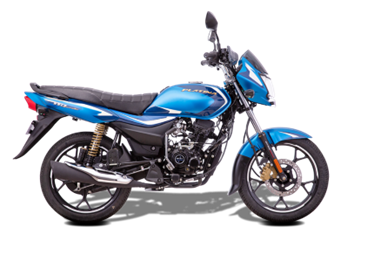 This feature is noteworthy because a rider needs full protection on unpredictable and uneven hilly roads. This bike additionally has high-end H-gear. There are some other worth considering features, such as quilted seats, a nitrox spring-on-spring suspension in the back, and tubeless tires, to ensure the comfort of the rider. New mirrors for better vision and handguards to provide more protection while riding on hilly surfaces are part of the enhanced design.
Price: Rs. 69,000+
Engine displacement: 115.45cc
Maximum power: 6.33 kW @ 7000 rpm
Fuel Type: Petrol
Cylinders: 1
Available colors: Perfect Beach Blue, Absolute Charcoal Black, Vibrant Volcanic Red
Bajaj Platina 100
The electric-start mechanisms give another super-tec model for the riders that takes full care of their needs. Climb up the hill with the simple push of a button that doesn't require the display of strength anymore. The long front and rear suspensions absorb all jerks to make the terrain and uneven roads feel smooth. The Bajaj Platina 100 bike is equipped with knuckle guards for safety purposes. The love for speed and a smooth ride over the hills is what thrills the riders the most.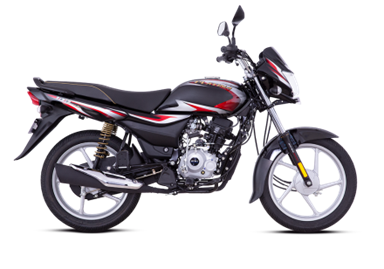 This is why the 102cc fuel-injected engine is fitted into this 100cc bike, which complies with BS6, and generates 7.8 horsepower and 8.34 nm of torque. This fuel-efficient motorcycle has an 11-litter tank installed to keep you going for a long time. In addition, this budget-friendly bike deserves applause for the wider rubber footpads that offer a better grip and more comfortable seating. Another noteworthy feature is the potent DTS-I engine, which provides unparalleled performance and fuel efficiency. Even in low light, the LED DRL is elegant and visible.
Exploring the hills is not time bounded anymore. The Platina 100cc takes care of visibility, and the 7inch wheels made with alloy on both ends ensure a great grip and shockproof riding. A comfort suspension system ensures great riding quality. The drum brakes are on both ends, and the ES version offers a front disc brake option. This bike proves to be the best partner that lets you explore hills.
Price: Rs. 63,000+
Engine displacement: 102cc
Maximum power: 5.8 kW (7.9 PS) @ 7500 rpm
Fuel Type: Petrol
Cylinders: 1
Available colours: Combine Black with either one of these- Red, Silver, Blue or Gold
Bajaj CT 110X
Carrying luggage on the go is not an easy task. This 100cc segment bike by it addresses that issue. The luggage rack at the end with a long seat assures comfort and ample space for luggage. The kadak power for the tough roads is derived from the 15cc DTS i-engine. This powerful engine gives you great pickup with absolutely zero compromises on mileage. This bike safeguards you and the engine with a circular belly pan.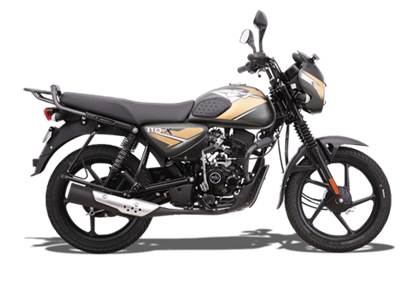 Keeping to the promise of safety on every road, the 100cc segment bike comes with semi-knobby tyres that guarantee great grip and no slip. It understands that style has to go hand in hand with safety. The super attractive bellows on the front suspension and rubber tank pads make this bike sturdy and muscular. And for that extra vibrant touch, it gives colour options to choose from.
Price: Rs. 66,000+
Engine displacement: 115.45 cc
Maximum power: 8.6 PS @ 7000 rpm
Fuel Type: Petrol
Cylinders: 1
Available colors: Ebony Blue & Black, Ebony Red & Black and Mattified Wild Green
Final Words
Each bike in this 100cc segment is facilitated enough to support your travelling goals. At the same time, they are priced at an affordable scale. Bajaj surely addresses the challenges one could face on the tough and uneven roads of the hills, making each of them a perfect choice for hilly regions. All these features make each bike a special vehicle that not just drives you to the destination but will keep you comfortable and safe throughout the journey.
Recent Articles
Check out the prices of all the bajaj 250cc bikes in India?
Know More

Which is the best 200cc naked bike in India?
Know More

How many miles does a 125cc engine last?
Know More

What are the best naked 250cc bikes under 2 lakh?
Know More

What is the best naked bike between 150cc-250cc?
Know More

Tag Cloud