Back
Last Updated: Feb 16 2023, 11:30 AM IST
Can I Drive My 125cc Bike on Mountainous Roads?
Biking across the hills and mountains is a euphoric experience; after all, who doesn't love the outdoors, wide-open spaces, and stunning views? However, it can also be difficult and risky because riding through hills requires sturdy and more powerful bikes than a commuter bike. So, to ensure that you can safely enjoy the journey, here comes the mountain specialist- Pulsar NS125 & Pulsar 125.

These two rockstar bikes in the 125cc segment are hill specialists. Bajaj understands that young bikers love speed, great mileage, and affordable, low-maintenance bikes and all these are taken care of. These bikes are manufactured with much more powerful engines, comfortable seats, and style. So, let's dig deeper into the strengths of these bikes.
Pulsar NS125
In typical Pulsar NS fashion, the engine adores being revved, and power delivery is at best adequate low in the rev range, powerful in the midrange, and diminishing as it approaches the red line.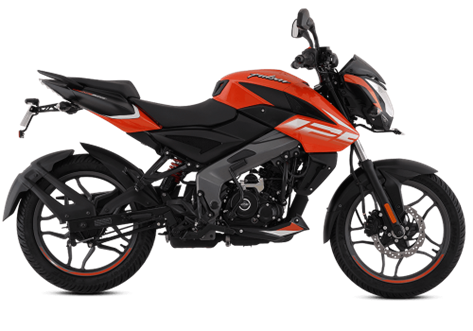 However, Bajaj has tweaked the Pulsar NS125 engine to be quite tractable, allowing the motorcycle to accelerate from 25kmph to 35kmph in fifth gear easily.
Suspension:
The Pulsar NS125 seems noticeably more stimulated in handling, requiring far less effort to change direction swiftly. As one would expect from a bike such as Pulsar NS branding, the suspension is excellent and sturdy.
Features:
This 125cc bike gets a half digital, half analogue display with an LCD speedometer. However, it does get an LED treatment with the headlight display, even featuring a DRL setup.

The bike has telescopic forks up front and an adjustable mono-shock suspension in the back to match its "sporty feel." The bike has 80/100 front and 100/90 rear tires. Because of the bike's alloy rims, they are tubeless in both the front and the back.

With Pulsar NS125- There are so many routes to discover and so little time, so embark on a journey and soar like an eagle.
Pulsar 125
When Pulsar's first version was released in 2001, it completely changed the definition of an affordable, high-performance bike.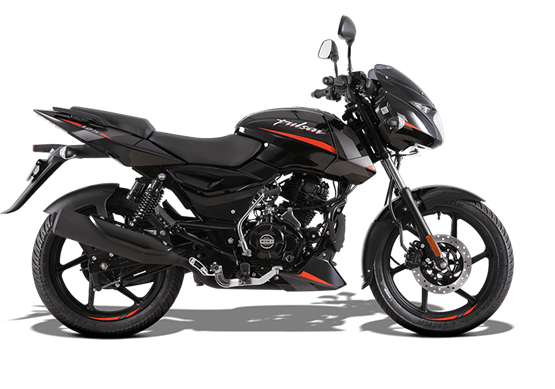 After that, the motorbike was so well-known that, nearly two decades later, its name is still referred as one of the most prestigious in Indian motorcycling. However, the 125 will be excellent as a daily commuter due to the smooth ride provided by the suspension and the roomy seats for rider and pillion.
First-in-class Design:
The Pulsar 125 showcases split-seat and split-grab rails. The 125cc bike has the following dimensions: 2,055mm in length, 755mm in width, and 1,060mm in height. Its fuel tank holds 11.5 liters, and its ground clearance is 165 millimeters.
Effectively efficient bike:
A 124.4cc single-cylinder engine paired with five-speed manual transmission power the Pulsar 125. The air-cooled engine can produce 11.8 horsepower and 11 nm of torque. The Bajaj Pulsar 125 bike can return 62 kilometers per gallon.
Glide the roads with Roar:
The Bajaj Pulsar 125cc has dual gas shocks in the back and a telescopic fork suspension arrangement upfront. The Pulsar has 100/90 x 17-inch tires on the back and 80/100 x 17-inch tires up front. While drum brakes are standard throughout the board, the top-spec trim is the only one with a front disc brake.
Safety is assured:
About security, Bajaj has included CBS (Combined Braking System) as standard equipment on all models of the Pulsar 125. The headlamp and side indicators are equipped with conventional bulbs, but the taillamp is an LED unit. The 125cc bike instrumentation includes a traditional tachometer and a digital display that includes the most important information, including the trip meter, fuel gauge, and speedometer.
A "bike-it" list is far better than a bucket list. We want you to create a long "Bike-It" list.
Pulsar has made it abundantly clear that the 125 is not a commuter bike but rather a bike that maintains the Pulsar experience in the commuter market. Despite being the least efficient of the bunch, at 57.5 km/l, they even included the baby Pulsar's ARAI-certified fuel-efficiency stats in comparison to the rest of the sector.
Conclusion
The two powerful 125cc bikes from Bajaj have a long wheelbase, wide handlebars, and highly relaxed seating positions, making them incredibly pleasant cruisers. It is more of a sports tourer, and both are incredibly good ones, as indicated by the insanely strong engine.

Both bikes are incredibly capable off the road because of their modest weight, and they may even work as a bike for hilly terrain. One of these two road rovers is a good choice if you seek a reliable riding partner for adventurous roads. Check out our wide range of bikes today and pick the one that best meet your needs!
Recent Articles
Check out the prices of all the bajaj 250cc bikes in India?
Know More

Which is the best 200cc naked bike in India?
Know More

How many miles does a 125cc engine last?
Know More

What are the best naked 250cc bikes under 2 lakh?
Know More

What is the best naked bike between 150cc-250cc?
Know More

Tag Cloud