Back
Last Updated: Feb 16 2023, 11:30 AM IST
Can you take a 125cc motorcycle on a long road trip?
Long roads and big travel plans require great mileage, extra safety and comfort. Bajaj's 125cc bike range caters to all these needs and provides additional features that will make them winners. The range of 125cc motorcycles can easily compete with the ideal big-size bikes, which are said to be perfect for travelling. Bajaj believes everyone should have the right to see every inch of the planet comfortably.

The 125cc range assures that all those much-hyped features of a travel bike are offered to everyone on a budget. A long trip requires a bike with great brakes, a sturdy body, an illuminated headlight, long and cozy seats, skidproof tires, and a large fuel tank. All this comes in a mean street machine manufactured by Bajaj. So why miss the biking trend?

Pack your bags, get the travelling places marked on the map, and start preparing yourself mentally and physically for this unforgettable long road
Bajaj Pulsar NS 125
With this bike, Bajaj guarantees one can't say no to a long road trip. The NS125, a "sporty commuter," attempts to compete with similar 125cc motorcycles.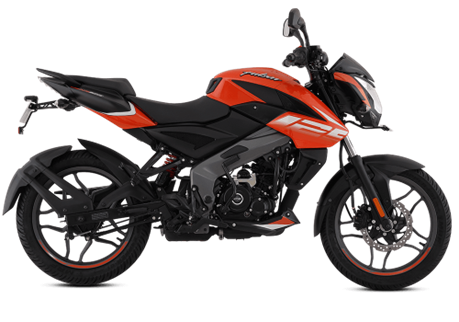 It's not like other travel bikes, but it's also not priced like one, so, at least in terms of pricing, it's right in the middle of the pack. Has Bajaj succeeded in creating a sporty commuter that fulfils the traveler's needs? Let's find out!
Look and Feel:
The Bajaj NS125's bodywork and appearance are not distinctive. Aside from the enhanced label and livery, it resembles its older sibling, the NS160, quite a bit. Still, this bike turns heads with its metallic body and glossy paint. In addition, the combination of the Infinity twin-strip LED tail lamp and the wolf-eyed headlamp creates a striking look. The dimensions of this 125cc travel bike have slightly lower proportions than its older sibling, the NS160, measuring 2012mm in length, 805mm in height, along with 810mm in width.
The Power-House:
A 125.45cc single-cylinder bike engine equipped with 11.6bhp and 11Nm of torque powers the machine. The 125cc engine is only air-cooled, in contrast to its older, oil-cooled sibling, and is paired with a five-speed manual transmission. Additionally, Bajaj installed an e-carburetor on the bike instead of a fuel injection system. As a result, the Bajaj Pulsar NS125's mileage can reach up to 45 km/l when driven effectively.
Handling:
The Pulsar NS125 gains a 240mm disc for its front brakes but loses out and receives a drum for its rear brakes. The motorcycle has telescopic forks up front along with an adjustable mono-shock suspension in the back.
Display Screen:
This 125cc motorcycle has an LCD speedometer and a hybrid digital/analogue display. However, it receives an LED makeover, and the headlight display even has a DRL arrangement.
Other Specifications:
Price: 1,04,371
Engine: 124.45 cc
Max Power: 8.82 kW at 8500 rpm
Max Torque: 11 Nm at 7000 rpm
Fuel Tank Capacity: 12 Liters
Available Colour: Orange, Red, Blue and Grey
Bajaj Pulsar 125
Another great option from Bajaj for bikers and commuters is the Pulsar 125. This bike, too, is promising and has passed all performance tests with distinction.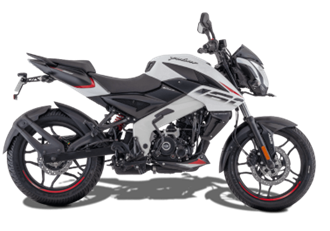 The 125cc segment of bikes would surely have this one giving tough competition to the rest of the market. The Pulsar assures that the mileage, fuel efficiency, comfort, and style are never compromised. Read through the amazing features of this bike that will surely make you believe that this is your best match.
Look and Feel:
The Pulsar 125 motorcycle shares the same exterior design as the rest of the Pulsar line. The Pulsar has the following dimensions: 2,055mm in length, and 755mm in width.
Power-House:
A 124.4cc single-cylinder engine paired with a five-speed manual transmission powers this motorcycle. The engine can produce 11.8 horsepower. The Bajaj Pulsar 125 can return approximately 62 kilometres per gallon.
Features:
The headlamp and side indicators of the bike is equipped with conventional bulbs. Only the taillamp is an LED unit. This motorcycle's has traditional tachometer with a digital display.
Other Specifications:
Price: 87,149
Engine: 124.4 cc
Max Power: 8.68 kW (11.8 PS) @ 8500 rpm
Max Torque: 10.8 Nm @ 6500 rpm
Fuel Tank Capacity: 12 Liter
Available Colours: Neon Green & Silver and Red
Final Words
Both the motorcycles are sturdy and promise to go miles with you. The maintenance of these bikes is also hassle-free. You can trust any model for your long road trip as they are both sporty and vibrant at a cost that suits your budget and requirements. Take your pick and enjoy the freedom.
Recent Articles
Check out the prices of all the bajaj 250cc bikes in India?
Know More

Which is the best 200cc naked bike in India?
Know More

How many miles does a 125cc engine last?
Know More

What are the best naked 250cc bikes under 2 lakh?
Know More

What is the best naked bike between 150cc-250cc?
Know More

Tag Cloud