Back
Last Updated: Feb 16 2023, 11:30 AM IST
Which is the Best 150cc Mileage Bike in India?
Do you give a rip about fuel efficiency? We at Bajaj understand your concerns well. Nowadays, efficient fuel use is not only a key factor for buyers when purchasing bikes, but it is also a key step we can all take to decrease the overconsumption of natural resources. Other than mileage, features like engine power, design, weight, ABS, and tires are considered, too, along with the maintenance charges. Bajaj gets what this young bike-riding generation needs. Additionally, our chaotic roads and unpredictable traffic conditions negatively affect the bike's performance.

Sometimes it's necessary to fire up the engine to its maximum capacity, and then the next second, you're riding in the low-end range. The performance of a bike is severely hampered by several factors, particularly its mileage. The majority of riders and commuters choose bikes for their high mileage rates.

Maintaining a heavy fuel drinker becomes quite challenging with the growing cost of fuel. To solve these issues, we offer you the following range of bikes and assure you that they will never disappoint the riders. These high mileage bikes are powered by other great features and offered at a price point that surely will win hearts.
Pulsar N160
Take control of emergency braking with complete assurance with the dual-channel ABS that prevents wheel lockup. Specifically, the Bajaj Pulsar N160 is simply the N250 with a smaller engine displacement, and for short riders, the seating position is rather comfortable.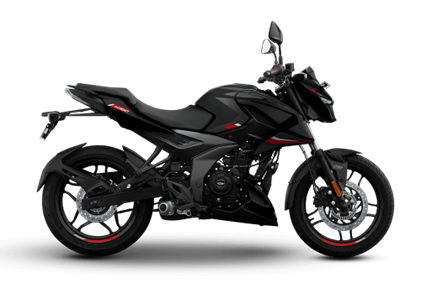 The low-to-mid-range grunt is sufficient for rapid overtakes and twists, making it simple to navigate through traffic. The public has a favorable perception of this bike due to its brand value and mileage. However, it boasts the most efficient 164.82cc engine available.
Specifications:
Engine: 164.82 cc
Max Power: 11.7 kW (16 PS) at 8750 rpm
Max Torque: 14.65 Nm at 6750 rpm
Fuel tank capacity: 14 L
Available Colour: Brooklyn Black
Price: 1,27,000+
Pulsar NS160
It was an effort from Bajaj to provide consumers with the same riding experience as the Pulsar 200NS. In terms of appearance, the Bajaj Pulsar NS and its older sibling are identical twins.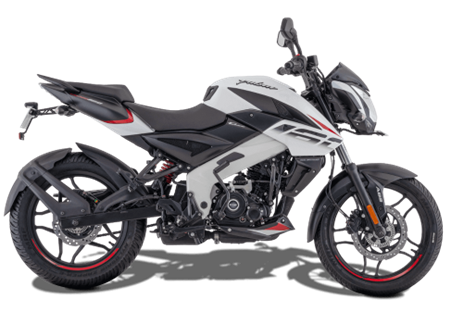 The headlight, tank shrouds, dual-tone paint, and graphic design are adapted from the 200NS to create the segment's most appealing bike. The shorter-range grunt facilitates the bike's movement and enables the user to handle traffic with ease. The NS160 is the first bike in the 150cc segment to get dual ABS.
Specifications:
Engine: 160.3 cc
Max Power: 12.7 kW (17.2 PS) at 9000 rpm
Max Torque: 14.6 Nm at 7250 rpm
Fuel capacity: 12 L
Colors available: Metallic Pearl White, Pewter Grey, Satin Blue & Burnt Red
Price: 1,23,000+
Pulsar 150
The Bajaj Pulsar 150 can be easily considered India's favorite bike due to its high demand and sale in the Indian market. It was first launched in 2001, and it has been constantly upgraded, considering the love it has received from Indian consumers.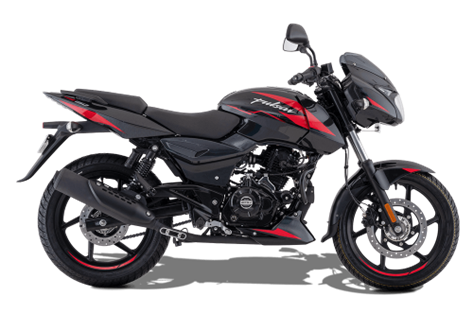 The new BS 6 version of the bike gives it instant power without any lag in the gearbox, and the three-part handlebar perfectly contrasts with the seating, making it a comfortable ride for the rider. However, the ergonomics and straight seating of the bike make it perfect for long journeys. The bike has a 5-speed gearbox. Keeping in mind the Indian market, Bajaj has made the Pulsar 150cc highly fuel efficient, wherein the bike offers a minimum 45km/L average.
Specifications:
Engine: 149.5 cc
Max Power: 10.3 kW (14 PS) at 8500 rpm
Max Torque: 13.25 Nm at 6500 rpm
Fuel capacity: 15 L
Available Colour: Sapphire Black Blue, Spark Black Spark Black Silver
Price: 1,04,000+
Avenger 160 Street
It is the only cruiser bike in the 150cc segment. It is similar to the more powerful Avenger 220. However, the metal finish on the bike gives it a more premium look with a twin-spark, double valve, and DTS-I engine.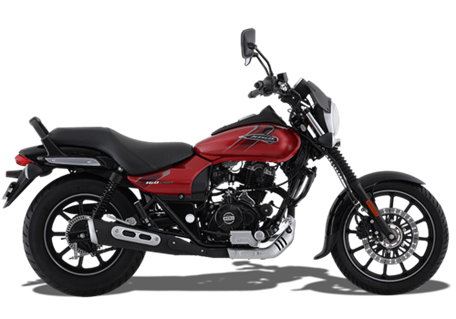 The Avenger 160 comes with a roadster-inspired design, and the top-notch roadster-styled headlamp and halogen bulb side indicators add to the bike's cruiser look. Long, low-slung seating makes it a comfortable ride and perfect for long journeys. The bike averages about 45 km/l, making it a fuel-efficient ride in the city as well. The simple yet classy look of the bike makes it a stand-alone bike in the 150cc segment.
Specifications:
Engine: 160.3 cc
Max Power: 11.03 kW (15 PS) at 8500 rpm
Max Torque: 13.7 Nm at 7000 rpm
Fuel capacity: 13 L
Colors available: Spicy Red & Ebony Black
Price: 1,11,000+
Final Words
All of these 150cc bikes are capable of accompanying you on this adventure we call life. These high-mileage bike can last a long time if we pay little attention to the small mistakes we make. Steer clear of abrupt acceleration and forceful braking. Try to stick to the "economy speed" that is typically indicated on a bike's speedometer. However, if you discover an issue with your bike's mileage, you should examine the carburetor to determine if it is tuned or if it is dirty.

Before adding fuel and engine oil to your bike, we urge you to check its quality. We would also debunk the fallacy that parking a bike in direct sunlight has no impact on its mileage. In actuality, it does. Avoid parking in the sun for extended periods, as this causes the fuel to evaporate. With a little maintenance, you and your bike will stay happy and going.
Recent Articles
Check out the prices of all the bajaj 250cc bikes in India?
Know More

Which is the best 200cc naked bike in India?
Know More

How many miles does a 125cc engine last?
Know More

What are the best naked 250cc bikes under 2 lakh?
Know More

What is the best naked bike between 150cc-250cc?
Know More

Tag Cloud