Back
Last Updated: Nov 15 2022, 11:30 AM IST
Can we Ride 100 CC Bikes in Hilly Areas?
A common misconception is that going to hilly areas can only be done on a bike with a high CC count. Mostly, you have seen riders on expensive bikes featured in images and advertisements for tourism in mountain regions. But what does one do if they own a bike with a 100cc engine? Do they get a bigger bike specifically for this ride? The definitive answer is no. However, one can even ride a 100cc bike into the mountains if one prepares and takes measures.

The Bajaj Platina 110 bike is highly recommended and well-suited for riding on inclines and uneven terrain. It entirely depends on how you ride the bike up the difficult slopes.

Let us tell you how to plan for such a trip and the steps you must take to assure a safe voyage while riding a 100cc bike. Before this, let's talk about some benefits of riding a bike with a 100cc engine.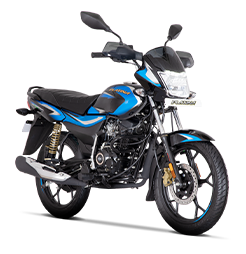 Lightweight:
The weight of the bike will vary based on the engine displacement. 100cc bikes are lighter, making them easier to handle across challenging terrains. Additionally, they are the easiest and lightest to push.
Better Mileage:
If you are planning a trip on a budget, this would be the best choice. Fuel is a major trip expense, so if your bike can travel far on less petrol, you will save a significant amount of money.
Tips on How to Prepare Your 100cc Bike for a Challenging Journey in Hilly
Service :
Getting your bike serviced on time helps keeping it healthy and functional for longer duration. Between 1 and 7 days before the trip, you must get your bike serviced and, afterwards, ride it through the city for a few days to ensure that everything is functioning properly. The chain set should be examined to see if it needs replacement. Check the whole wiring system and, if necessary, replace it.
Brakes :
Wires for the clutch, accelerator, and brakes should be replaced if required. Inspect the front and rear brakes; if they are drum brakes, you may as well replace the brake. Inspect that the bearing is in proper working order. Replace or replenish all fluids, especially engine oil.
Spare Parts :
It may not be difficult to find a repair shop in certain hilly regions that are well-connected. Due to the remoteness of the region, spare parts might not be readily available, which presents a bigger challenge. Ensure that you have some necessary spare components on hand.
Tires :
It is of the utmost importance to inspect the quality of both tires. If they're reaching the end of their useful life, it would be advisable to replace them. Examine attentively for any splits or cracks that might cause issues down the road. Take your bike to a mechanic and request that they examine the tires for any small nails that could have made their way into the tire but haven't yet caused a puncture. In addition to the tires, you should also inspect the rims for any dents or unevenness.
Recognize your Bike :
Before riding in mountainous areas, you must be familiar with your bike. Things such as its abilities, where it can travel, how it can climb, how much weight it can carry, where it would abandon you, and how to control it on steep inclines and abrupt turns, among other things. If something is amiss with your bike, you ought to be able to determine it by its sound.
Ride Solo :
It does not imply that you will be travelling alone. Go without additional passengers. Carrying a pillion entails an additional rider and the luggage of two individuals and may add extra pressure on the bike.
Travel Lightly :
It is important while riding solo as well as when travelling with a companion. Carry your luggage to an absolute minimum. Just bring the bare necessities and try to travel with as little as possible. Not only does excessive luggage add weight to the bike, but it's also a headache to carry around.
Follow the Way :
Avoid taking shortcuts as most of the times the roads are in bad condition and full of potholes. Multiple times as the road ascends, you will discover a dirt path heading directly to the highest portion of the road. Avoid taking any detours and stay on the route.
Final Thoughts
For a two-wheeler 100 cc bike to perform well in steep terrain while maintaining city-like ride comfort and fuel economy, the figure to watch out for isn't the bike's peak hp rating but rather its maximum torque rating and torque output curve. Bajaj has the top range of 100cc bikes such as Bajaj Platina 110, Bajaj 100, and Bajaj CT 110X.

These bikes have top-notch features such as self-start, maintenance-free and gives best mileage. With such features that can work as a boon for you during a trip to hilly areas. So what are you waiting for? Fill the tank and go on for a long adventurous ride.
Recent Articles
Check out the prices of all the bajaj 250cc bikes in India?
Know More

Which is the best 200cc naked bike in India?
Know More

How many miles does a 125cc engine last?
Know More

What are the best naked 250cc bikes under 2 lakh?
Know More

What is the best naked bike between 150cc-250cc?
Know More

Tag Cloud