Back
Last Updated: Feb 15 2023, 11:30 AM IST
Is it Worth Buying a Dominar 400 for Touring Purposes?
The Dominar 400 gives enough reason to be a buyer's choice for touring purposes. The bike is designed to keep you going on uneven, challenging roads. Bajaj knows that touring is not just about covering the distance but also about fuel efficiency, comfort, style, and safety.

The Dominar bike is incredibly cozy, capable of transporting luggage to make your journeys simple and comfortable and has a larger fuel tank to allow you to keep cruising. You may be sure that touring motorbikes are manufactured to last since their design prioritizes endurance. You'll have a more enjoyable and fulfilling riding experience if you have this bike for those long journeys. We'll go through several other advantages of owning this touring bike.
It is all about performance- Ride Big, Ride Long, Ride Free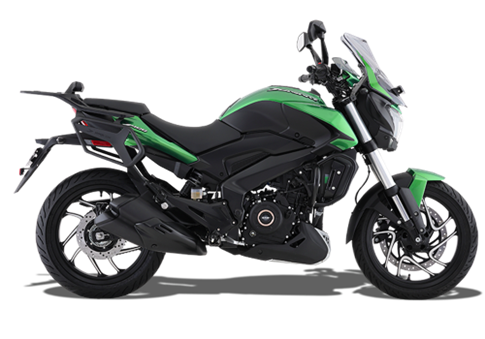 Performance:
With a 373cc engine, this bike can produce a maximum of 35 PS and 35 NM of torque. In addition, a six-speed transmission and slipper clutch add to the bike's exceptional performance. In addition, it boasts disc brakes, dual-channel ABS brakes, and a gas-charged mono-shock suspension.
High torque range & linear power delivery:
Dominar's power starts to manifest early and is supplied linearly, with a large torque range. It has sufficient reserve power for an additional rush even at the top end. You can cruise with low gear shifts and increased fuel efficiency thanks to a high torque range.
6-Speed gearbox:
The sixth gear helps easy driving at high speeds and relieves stress on the gearbox.
Strong Design- The joy of riding a motorcycle is out of this world
Factory-installed touring equipment:
The new accessory package for the Dominar 400 has been geared for long-distance riding and, as a result, includes a significantly higher visor and improved hand guards. It also features a redesigned baggage rack and passenger backrest. It is also Included with these new touring accessories like Tall Visor, Engine Bash Plate, Hand Guard, Carrier + Back Stopper, Leg Guard, USB Charging Port, Navigation Stay, and a Saddle Stay. Except for the saddle stay, every accessory will be included as standard. The Saddle Stay is a paid, sold-separately item that may be obtained from dealers.
Distinct Attitude:
Make a statement with Dominar 400's distinctive stance, which was inspired by the Leo stance. The bike's robust silhouette and pure muscular proportions are a blatant declaration of authority on the road.
An untroubled riding experience:
Although upright, the Dominar riding stance is cosy and in control. This bike is designed to ensure that you won't feel any strain even after a long day in the saddle.
Twin barrel exhaust:
Dominar's presence is felt by everyone thanks to its throaty exhaust and powerful bass notes.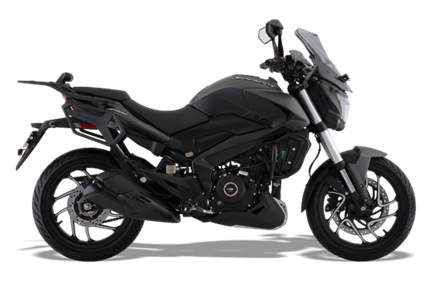 Noteworthy Technology
Dominar 400 offers unique features that makes it a favorite amongst the riders. Here are some of the best ones-
Specialized slipper clutch:
Use the slipper clutch to change gears smoothly, precisely, and at any rpm while slowing down. It lengthens the transmission's lifespan by minimizing the effects of engine braking and preventing unexpected forces from harming it.
Twin-spar perimeter frame:
For improved handling, a reinforced perimeter frame offers lateral strength and torsional rigidity.
Split LCD for the reverse:
Stay in charge day or night. The Dominar 400 has a high-end LCD display that shows data such as a gear position indication in a bright backlight for improved clarity and outstanding nighttime visibility.
Safety Aids- Ride on a Motorcycle if you want to be content for the rest of your life
Full LED with Auto Headlight On:
A striking white LED headlamp cluster that lights up the road like daylight makes a lasting impact and provides a superb and safe riding experience at night. The headlamp of Dominar has four operating modes that cater to various riding and lighting requirements: position lamp, automatic headlamp on, low beam, and high beam.
Superior front disc braking:
With a superior front disc brake with radial calliper mounting, you can easily go from 100 to 0 km/h in just 43 meters.
Built-in bungee cords:
The Dominar 400's touring capabilities are improved by the four bungee straps placed neatly under the pillion seat to assist secure luggage.

With these additional upgrades, the Dominar 400 has become more tour-ready than ever before, making it an even better value than before. Overall, the Dominar brings Bajaj one step closer to the traveling image it has been constructing.
Final Thoughts
Touring on the bike is a dream and a passion for some. Finding the best match that can be your travelling partner and takes good care of you on the road- is a challenge. Dominar 400 is one bike that will never disappoint its rider. The bike is fully loaded with impressive features that express your passion and love for touring. Get your Dominar 400's today and enjoy your passion of riding!
Recent Articles
Check out the prices of all the bajaj 250cc bikes in India?
Know More

Which is the best 200cc naked bike in India?
Know More

How many miles does a 125cc engine last?
Know More

What are the best naked 250cc bikes under 2 lakh?
Know More

What is the best naked bike between 150cc-250cc?
Know More

Tag Cloud