Back
Last Updated: Feb 16 2023, 11:30 AM IST
Bajaj Avenger Street or Dominar 400, which is better?
Were you looking for a bike great for everyday travel or a power-packed long rider? Or do you need a bike that lets you glide on harsh turns and is equally amazing on city streets? Of course, deciding which bike to choose is harder than you thought, right? We know bikes are expensive and are a one-time investment, so the decision must be taken smartly. Well, you can test-drive all the bikes on your optional list before you make a call. Still, we have made it a little easier to choose between Avenger Street and Dominar 400.

It is certain as both bikes by Bajaj are highly competitive and loaded with the latest technology. Many riders are a part of the Bajaj community because of the extraordinary features, services, and engines. Avenger Street, as well as Dominar 400 are both extremely powerful. Let's see who will win this comparison.
Bajaj Avenger Street
Avenger Street 150, and Avenger 160, are the two variants Bajaj has introduced. With the BS6 modification, the Avenger Street 160 received a fuel-injection system, an ECU, and a new cat-con. It is powered by a 160 cc SOHC, air-cooled, DTS-i engine that has been updated. This engine's highest output is 15 PS at 8,500 rpm, and its maximum torque is 13.7 Nm at 7,000 rpm. In addition, LED DRLs, a low and long profile seat, an extremely wide rear tyre, a comfortable riding position, a headlight design reminiscent of a roadster, a sporty exhaust, etc., have all been carried over.
The Avenger 150 is designed primarily for cruising on city streets. The bike has a distinctive appearance thanks to the design, which will draw the attention of onlookers. The handlebars are built to make manoeuvring around the city simple for the rider. The bike's length is 2177 mm, its width is 801 mm, and its height is 1070 mm. The motorcycle has a 1480 mm wheelbase and 169 mm ground clearance. The bike weighs 148 kilogrammes.
Dominar 400
At first impression, the Dominar 400 appears to be a sturdy motorbike. Few other bikes in India can match its presence on the road, reminiscent of a huge bike. The chromed-out front suspension forks and the diamond-cut alloy wheel are the first things you notice at the front, followed by the fierce glare of the LED headlight that appears strong and fashionable.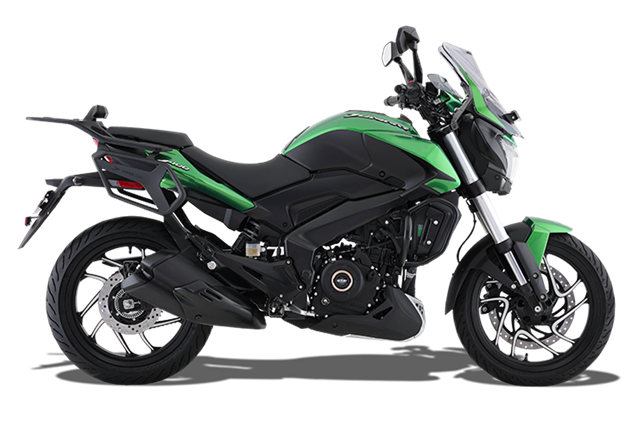 The tank shrouds that mimic the fuel tank with the metallic finish on either side are beautiful. From the front, this motorcycle appears to be fairly large and solid. In contrast to the rear side panel, which is available in the motorcycle's colour, the pillion grab-rails, and the rear diamond-cut alloy wheel, the blacked-out side panels and double-barrel exhaust look fantastic in the back. The distinctive Bajaj-style LED tail lamp gracefully finishes the rear.
A fully digital instrument panel, LED headlights, precise LED front and rear indicators, and svelte diamond-cut alloys are all standard on the Dominar 400. In addition, a gear-position indicator is present on this motorbike, although it is inconvenient to use because it is mounted on the fuel tank.
This motorbike has a liquid-cooled 373.2cc engine, dual-channel ABS, and a slipper clutch as far as mechanical components go. On or off the road, the Dominar 400 is a sure-footed, steady motorcycle that is incredibly fun to ride. The Dominar 400 is what it is today, largely thanks to Bajaj's genius in this area.
43 mm front USD forks and a Nitrox Monoshock suspension at the back help to achieve the same results. Despite not entirely looking like one, the Dominar 400 is a highly responsive motorbike because of the strength of the beam perimeter frame, which is combined with the kerb weight of 187 kg.
However, the Dominar 400 may be difficult to manoeuvre and demand more effort in severe off-road circumstances. The wide-set handlebars, which are also comfortable, greatly improve handling.
Which one to go for?
We have seen that both bikes have sofa-like seats that will keep you comfortable on your short and long journeys. Loaded with strong engines, some love Avengers for daily commuting, whereas the Dominar is called a sports bike. Because of its mileage and fuel efficiency, many riders prefer the Avenger Street to the Dominar 400. A lot will be found to discuss that Avenger Street 160 is great for conquering the mountains.

Well, everyone puts forward their opinion based on their needs and whether they are fulfilled. Instead of getting influenced by the opinions of others, you go for a test drive. So, after a deep dig, we have given you the specifications of these bikes.
Recent Articles
Check out the prices of all the bajaj 250cc bikes in India?
Know More

Which is the best 200cc naked bike in India?
Know More

How many miles does a 125cc engine last?
Know More

What are the best naked 250cc bikes under 2 lakh?
Know More

What is the best naked bike between 150cc-250cc?
Know More

Tag Cloud