Back
Last Updated: Feb 21 2023, 11:30 AM IST
What are Some Good Naked Bikes Under 1.5 Lakhs?
Are you on the lookout for a bike that is cost-effective and power-packed? Bikes are a long-time investment, and it is essential that you get proper return on investment. Many options abound in the market for finding a bike under 1.5 lakh. While many bike styles are available, naked bikes are quite popular today. What explains their appeal? Aggression, dynamism, and performance are three attributes. These have come to be synonymous with these bikes. You can find a great naked bike under 1.5 lakh without hassles. Check out the line-up from Bajaj Auto without further ado!
Top Options for a Naked Bike Under 1.5 Lakh
A naked bike under 1.5 lakh is well within reach. You do not have to burn a hole in your pocket just to buy a bike you've always wanted. Here are the best options for you to pick from!
Bajaj Pulsar 250
One of the more aggressive naked bikes, it hits the sweet spot about performance. It is one of the most sought-after options in the market, especially for younger buyers. You get a high-performing 249.07 cc engine as well. Starting prices are also reasonable at Rs. 144,979 (ex-showroom, New Delhi). The Pulsar 250 flaunts a striking design.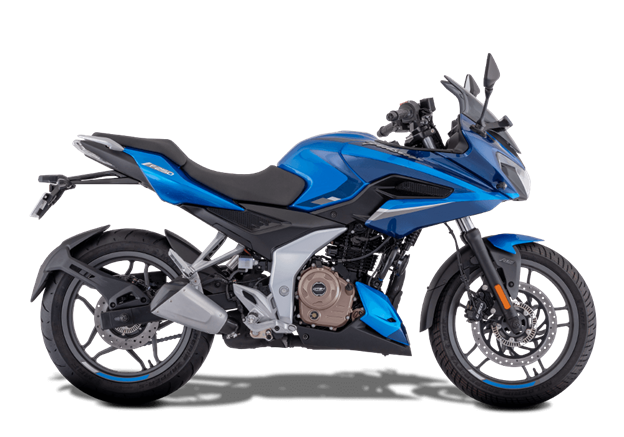 It has a chiseled body and an LED projector headlight. You also get a slipper clutch, assist functions, and better braking abilities. The bike distributes power throughout a wider revving range. There is also ample torque available for that extra punch while riding. This is one of the plus points of the motorcycle, without a doubt.
Design-wise, it looks pleasing with its dual metallic colours and graphics. You will also love the exhaust note and its impeccable satin grey finish. The crystalline taillight (LED) completes the look to perfection as well. Comfort-wise, it takes the cake with its mono-shock suspension setup. An infinity display ensures easy-to-read information and looks the part too.
A USB mobile charging port is available for more convenience. ABS complements 300 mm and 230 mm front and rear disc brakes. The bigger tires ensure superior grip across various terrains as well. It is a strong contender in the race of the best bike under 1.5 lakh. You will think of it as a value proposition within this price band.
Bajaj Pulsar NS200
Priced from Rs. 140,666 (ex-showroom, New Delhi), this one's a stunner in the flesh. It also offers heady performance, making it a coveted bike under 1.5 lakh. A liquid-cooled FI DTS-i engine churns out 24.5 PS of power and 18.74 Nm of peak torque.
An aggressive design is the key highlight of the model. It also has twin disc brakes with ABS for enhanced safety. You also get a Nitrox suspension system and perimeter frame. This ensures enhanced balance and comfort. It is one of the most appealing naked bikes available. It also gets a sporty stance and offers a riding experience that is second to none! You will fall for the enticing look and feel without a shred of doubt.
Bajaj Pulsar NS160
The Bajaj Pulsar NS160 is another great bike under 1.5 lakh. It starts from Rs. 127,853 (ex-showroom, New Delhi) and gets a responsive engine and aerodynamic design. Safety-wise, you get ABS with twin-disc brakes. DTS-i technology enhances the performance of the Twin Spark engine. It generates 16 PS and 14.65 Nm of power and torque. The torque band is now wider, with 85% of power distribution throughout the revving range. This ensures that one has a bigger power-play while riding. You can expect a big performance boost as a result.
Tractive Effort also comes into play across all the gears. At the same time, the bike also offers improved handling. The metallic and premier colour options are the icing on the cake. You will also appreciate the underbelly exhaust and crystalline LED taillight. Ergonomics-wise, the bike offers better comfort and access. The seat height of 795 mm is also good. You also get the infinity instrument console with the Bajaj Pulsar NS160. A USB charging port adds to the convenience quotient too. Wider tires also ensure superior control and grip. All these attributes make the Bajaj Pulsar NS160 the best bike under 1.5 lakh.
Summing Up- The Takeaways
As you can see, this price band offers several options for naked bikes. You should choose based on your design, engine, and riding preferences. Bajaj is one of the most trusted automobile brands in the bike under 1.5 lakh segment. It offers the right combination of quality and performance.

The brand ensures great ownership experiences throughout the entire life cycle. At the same time, a Bajaj motorcycle also ensures lower running and maintenance costs. You also get premium performance alongside. It is one of the best parts of being a Bajaj Auto customer. The service experience is also organized with excellent customer support.
Recent Articles
Check out the prices of all the bajaj 250cc bikes in India?
Know More

Which is the best 200cc naked bike in India?
Know More

How many miles does a 125cc engine last?
Know More

What are the best naked 250cc bikes under 2 lakh?
Know More

What is the best naked bike between 150cc-250cc?
Know More

Tag Cloud