Back
Last Updated: Feb 15 2023, 11:30 AM IST
Which Bike is Best Under Rs.70000 in India?
Are you thinking about the top bikes in the country which are priced under Rs. 70,000? You are not alone; many buyers prefer models in this bracket. They ensure the right mix of affordability and performance in most cases. You will come across many a bike under 70000 with distinctive features.

Bajaj Auto is your top brand in this context. It offers a diverse lineup of models with some of the best features at this price point. Bajaj Auto also offers a hassle-free ownership experience. You can also expect great service, customer support, and reliability. The brand has many bikes in this price band. Here are some top choices you can take a closer look at.
Bajaj Platina 110- What Makes it Special?
The Platina 110 starts from Rs. 69,216 (ex-showroom, New Delhi). This comes with a single-cylinder four-stroke engine and electronic injection. There are 115.45 ccs of power propelling the bike to 90 kmph at the max. It pairs nicely with the 5-speed gearbox for better performance. A tubular single-down frame and lower cradle take care of dynamics. A fuel tank capacity of 11 litres is also par for the course. Tubeless tyres at both ends make for another handy touch.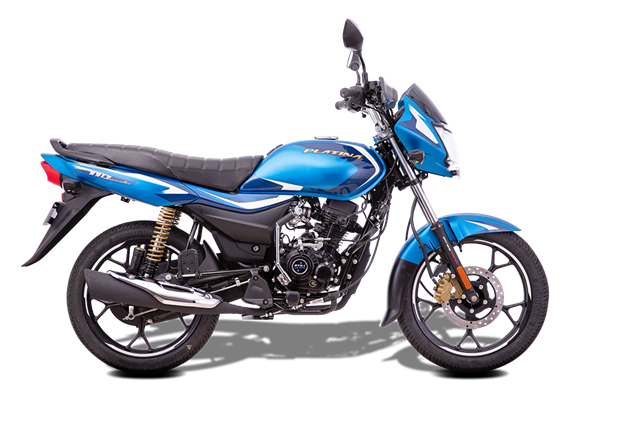 Road manners boost with the rear SOS Nitrox canister and telescopic suspension. You'll find 130 mm and 110 mm front and rear drum brakes with CBS. Now that adds greatly to the safety quotient, without a doubt! Some other specs include a 1255 mm wheelbase and 200 mm ground clearance. You also get 807 mm of seat height which helps greatly. The Bajaj Platina 110 is a well-equipped bike for sure. It gets both tank and hand guards with AHO (automatic headlamp). You'll find yourself comfortable on the seat, and wider foot pads ensure better grip. The tail lamp is brand-new, while attractive mirrors perfectly complete the package. You'll also love the LED DRL (daytime running light). The icing on the cake is the digital speedometer. It not only looks the part but is also easy to use.
Bajaj Platina 100- Can it be a Worthy Alternative?
Another great bike, under 70000, gets a starting price of Rs. 63,130 (ex-showroom, New Delhi). You will appreciate the powerful DTS-i single cylinder four, stroke 102 cc engine. It seamlessly generates 5.8 kW of power and 8.3 Nm of torque. The bike's top speed stands at 90 kmph and gets a four-speed gearbox. The fuel tank capacity stands at 11 litres. There is also a front telescopic and hydraulic suspension setup. Comfort is further ensured with the rear spring-in-spring suspension. There are 130 mm and 110 mm drum brakes with an anti-skid setup.
The bike also has an LED daytime running light and an electric start. The long and soft seat is a big advantage. The suspension setup absorbs most bumps and potholes. Wider foot pads also enable a better position and grip alike. Rubber is used to craft these handy additions to the bike. So the next time you ride in slippery or wet conditions, you'll know what to thank!
Bajaj CT110X- A Smart Choice?
It is another bike that offers great value for money to buyers. It is priced from Rs. 66,298 (ex-showroom, New Delhi). It comes with a single-cylinder four-stroke engine with a capacity of 115.45 ccs. Power and torque figures stand at 8.6 PS and 9.81 Nm, while the bike's top speed stands at 90 kmph. It also comes with a four-speed gearbox with a fuel tank capacity of 11 litres. A wheelbase of 1285 mm aside, it also has 170 mm of ground clearance.
Manoeuvrability is a breeze with a kerb weight of 127 kg. There are 130 mm and 110 mm front and rear drum brakes on offer. A robust belly pan protects the engine on bad roads too. You also get handy crash guards for the company. The semi-knobby tyres also play their part on such challenging stretches. They ensure better grip and handling on a variety of surfaces.
The bike comes with an appealing design, complete with front suspension bellows. They not only look stylish but also enable better cornering. There are rubber tank pads which enhance the riding style and comfort. The seat gets solid padding and double stitching too. You'll like the carrier for keeping the practicality flag flying! A third footrest is also available for positioning your feet in a better way. This ensures both comfort and convenience over longer journeys. Pillion riders will naturally have a soft spot for the CT110X for this reason!
On an Ending Note
Go for the bike under 70000 that fits the bill on all counts. Compare power and performance figures. Examine the designs closely. Take a look at the available features. All three models have their distinct USPs, so choosing one can be hard! Take your time and decide accordingly.
Recent Articles
Check out the prices of all the bajaj 250cc bikes in India?
Know More

Which is the best 200cc naked bike in India?
Know More

How many miles does a 125cc engine last?
Know More

What are the best naked 250cc bikes under 2 lakh?
Know More

What is the best naked bike between 150cc-250cc?
Know More

Tag Cloud