Back
Last Updated: Feb 21 2023, 11:30 AM IST
Which is the Best Street Fighter Bike Under 2 Lakh in India?
How about a bike that helps your personality in standing out from the crowd? Or something which is about unbridled aggression and power? Street fighter bikes are your answer. Now, if you think a street fighter bike is totally out of your budget, you could not be more wrong. You can also find such a bike under 2 lakhs. You will find several choices available from Bajaj Auto. These bike models will live up to your expectations in this category.

Street fighter bikes channel their name into aggressive and intimidating designs. These are road rulers and either naked bikes or sports bike models. Customization is also possible at times. Several components are also replaceable at times. In Indian market terms, they may equate bikes with an appealing design. They have attained huge popularity amongst young buyers over the years. They usually look for something more dynamic and in sync with their specific sensibilities.
Bajaj Pulsar NS200- A Street Fighter Bike Taking Over the Market
This is a great street fighter bike under 2 lakh and has attained immense success over the years. The Bajaj Pulsar NS200 has a powerful 199.5 cc engine that dishes out 24.5 PS and 18.5 Nm of power and torque figures. There is a six-speed transmission system while fuel injection (FI) is absent. The single-channel ABS setup is another value addition to the motorcycle. It is an automatic guarantee of better safety.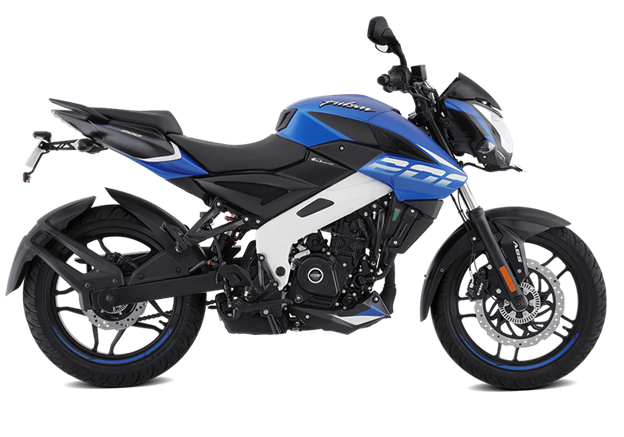 The Pulsar NS200 is one of the most coveted street fighters at a competitive price in the Indian market. The engine is liquid-cooled and ensures seamless performance. The bike has new body decals, rim tapes, a belly pan, and a tank pad like the template used for the Bajaj Dominar 400. In addition, there are 300 mm and 230 mm front and rear disc brakes, which also ensure superior performance.
The perimeter frame and Nitrox suspension ensure great balance. The Naked Sport's design, look, and feel make the motorcycle compelling in its segment. The frame ensures superior cornering or turning along with possessing higher stiffness too. There are wider tyres which combat slippage and also take care of emergency braking at the same time. It ensures better safety for riders across varied terrains.
The Take-Away- Why Choose this Bike?
The Bajaj Pulsar NS200 is amongst the top picks if you are seeking a street fighter bike under 2 lakh. It sports the classic and enticing street fighter design, with its raw appeal on the roads. The commanding road presence is a major plus point, along with the reasonable pricing. Add to that Bajaj Auto's reliable service and availability, and there is the complete picture.
The Bajaj Pulsar NS200 gets all the features that are par for the course in the bike under 2 lakh categories. If you are on the look out for an aggressive street fighter, then this is one that you should watch out for. This is the best mix of design, power, and performance. Of course, the pricing is also attractive, and it should be a huge draw for buyers without a doubt. It is not only durable but stylish at the same time.
Why Get Your Bike from Bajaj Auto?
Bajaj Auto is a name that needs no introduction in the Indian motorcycle industry. It is synonymous with trust, reliability, and quality above everything else. Bajaj always puts its customers first and thinks about their preferences. This approach has led to the production of several iconic models over several years. Bajaj has also dominated the two-wheeler space in the country. Its Pulsar range has also been one of the most successful motorcycle brands on Indian roads. Today, the Pulsar line-up has expanded well beyond the 125 cc model to 150 ccs, 250 cc and even the NS200 variants. However, the iconic Pulsar design and sporty riding experience remain hallmarked.

This has kept the flag flying high for the Pulsar name and Bajaj Auto in the Indian market. Buying any Bajaj motorcycle means getting access to reliable service and affordable product parts across the country. There are also several other value additions throughout the ownership journey. Bajaj Auto always ensures greater peace of mind by providing quality for money. You can expect a durable machine that will serve you well for years.

You can also buy Bajaj motorcycles at reasonable prices for their segments. The prime example is NS200, which is considered as the best street fighter bike under 2 lakh in India. This derives from the brand's commitment towards looking out for its customers. Also, Bajaj motorcycles ensure lower running costs and easy maintenance. This saves you considerable time, energy, and hassles in the future. Your dream of owning a street fighter bike is no more just a dream but can turn into reality. So, get the NS200, the best streetfighter bike under 2 Lakh in your garage and experience the difference. It is one of the best street fighter models in the market today. Gear up for the best combination of power and panache!
Recent Articles
Check out the prices of all the bajaj 250cc bikes in India?
Know More

Which is the best 200cc naked bike in India?
Know More

How many miles does a 125cc engine last?
Know More

What are the best naked 250cc bikes under 2 lakh?
Know More

What is the best naked bike between 150cc-250cc?
Know More

Tag Cloud