Back
Last Updated: Feb 16 2023, 11:30 AM IST
Which is the Best Bike in the Range of 70k to 80k?
If you are on the lookout for a good bike within a 70-80K price range, then you are in for luck. There are several of the best bikes that you can pick in this category. A budget of Rs. 70-80,000 ensures you get an optimal mix of sportiness and practicality.
Your Best Bike in the 70-80K Brackets
Try a bike like the Bajaj CT125X, which starts from Rs. 71,354 (ex-showroom, New Delhi). A new model from Bajaj Auto is one of the best bikes in the category. A four-stroke 124.4 cc single-cylinder SOHC air-cooled DTS-i engine works magic with aplomb. It generates 10.9 PS at 8000 RPM and 11 Nm peak torque at 5500 RPM. A five-speed transmission also works neatly with the engine.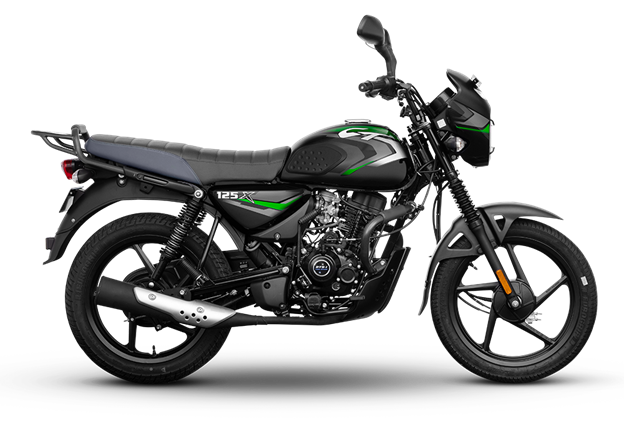 You get a sporty feel across the city and long-distance rides alike. You also get a quilted seat with exclusive TM foam on this bike. It ensures superior comfort and quality riding experiences alike. There are tubeless alloy wheels along 130 mm/240 discs and 130 mm drum front and rear brakes. CBS is another handy addition to the feature list. You also get telescopic front suspension and the SOS Nitrox rear suspension system.
A daytime running lamp is also present, along with crash guards. You will love the attractive bellows for the front suspension setup. The tank pads add to their appeal and also enhance comfort greatly. USB charging is also available along with a robust carrier. The latter can take heavy and big items without any hassles. This upholds the sheer practicality that is often synonymous with Bajaj Auto models. Yet, there are no compromises on riding thrills.
Some Extra Options
Along with this popular bike, you can also try other varieties in the Bajaj Auto line-up at this price point. Some of the top options include the following:
Bajaj Platina 110- Commuters hugely prefer this bike for its competitive price of Rs. 69,216 (ex-showroom, New Delhi). Good mileage is another USP, without a doubt. A single-cylinder 115.45 ccs four-stroke engine generates 6.33 kW and 9.81 Nm of peak torque. Along with a top speed of 90 kmph, it also gets a five-speed gearbox.

Tubeless tyres complete the mix with 200 mm of ground clearance. The bike also has hand and tank guards and a long, super comfy seat. There are wider foot pads for superior comfort and grip alike. Other features include a digital speedometer and an LED daytime running lamp. These not only scale up the usefulness quotient but also look and feel attractive. Talk about an enticing choice!

Bajaj Platina 100- It is a bike that starts from Rs. 63,130 (ex-showroom, New Delhi). It comes with a single-cylinder four-stroke DTS-i 102 cc engine. This dishes out 5.8 kW and 8.3 Nm of torque. The top speed stands at 90 kmph while the fuel tank capacity stands at 11 litres.


An LED DRL and an electric start are a part of the mix. You'll love the soft and long seat with superior shock absorption features. That's a relief on bumpy roads, and ads, for sure. There are also wider foot pads made of rubber. A stylish rear-view mirror adds to its visual elegance.

Bajaj CT 110X- This is one of the best bikes available at this price point. It starts from Rs. 66,298 (ex-showroom, New Delhi). Expect a high-performing single-cylinder four-stroke 115.45 cc engine. It dishes out 8.6 PS and 9.81 Nm of torque. It can touch 90 kmph at its top speed. It is quite impressive if you consider the segment!

You can shift gears smoothly with the four-speed setup. The front hydraulic and telescopic suspension is a great addition. The rear has the spring-in-spring setup too. 170 mm of ground clearance aside, the kerb weight stands at 127 kg. Other features include a circular belly pan, semi-knobby tyres, and crash guards. The bike's also got a useful carrier. These ensure great stability and safety for riders above all else. The CT 110X is a bike that offers everything a buyer desires in this category.
Your Takeaways
Check out these bikes in your preferred price band and take your decision. Bajaj Auto is the best place for your motorcycle purchases. It is a no-brainer, considering its rich legacy of trust and quality. A customer-first philosophy manifests itself through all the bikes mentioned above.
The Bajaj Platina 100 and 110 are reliable models with frugal engines. The same holds for the CT125X. It adds that little extra punch to the proceedings. The CT110X is another practical option that suits diverse user needs. Choose as per your specific needs and do compare the prices.
Recent Articles
Check out the prices of all the bajaj 250cc bikes in India?
Know More

Which is the best 200cc naked bike in India?
Know More

How many miles does a 125cc engine last?
Know More

What are the best naked 250cc bikes under 2 lakh?
Know More

What is the best naked bike between 150cc-250cc?
Know More

Tag Cloud