Rural Development
Jankidevi Bajaj Gram Vikas Sanstha
JBGVS is a registered Society & Trust that works under the patronage of Shri Rahul Bajaj, Chairman, Bajaj Auto Ltd. and under the guidance of Shri Madhur Bajaj, Vice-Chairman, Bajaj Auto Ltd. and Trustee of JBGVS.
It is an apolitical, secular rural development organisation. It aims to act as a catalyst and assist the participating rural community in the selected 84 villages in Maharashtra, Rajasthan and Uttarakhand to improve their quality of life. To achieve the objectives, different types of projects are implemented based on the needs of the villagers some of which are mentioned below.
SPECIAL PROJECTS:
WATER CONSERVATION PROJECTS
We have created more than 2 lacs cubic meter of water holding capacity in 40 villages in Maharashtra benefitting about 10,000 families. The Sanstha is also partnering with Maharashtra Government in their prestigious 'Jalyukta Shivar Abhiyan' to make drought free Maharashtra by 2019.
i. Pune- Since 1995 worked on Watershed Development in Model Village Scheme and during 1995 to 2012 in Drought Prone Area Programme (DPAP) making 2 villages tanker free.
ii. Wardha- The focus is on creating ponds by digging nullahs for water & soil conservation. Since 2011 in 23 villages creating 1.48 lacs cubic meter of water holding capacity to ensure year round availability of water.
iii. Aurangabad - Undertook de-silting of existing percolation tanks & cement bunds in 10 villages creating 0.54 lac cubic meter of water holding capacity. Due to these treatments, the water levels in surrounding wells increased by 3-4 ft.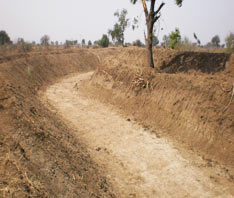 Before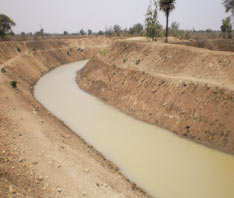 After
Digging of Nullah- Wardha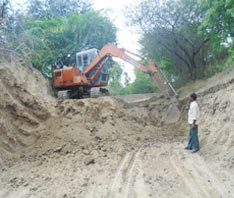 Desilting work-Aurangabad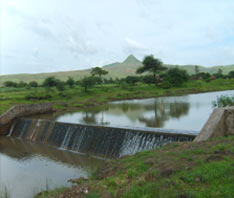 Cement Nullah Bund - DPAP
PROJECT AAMRAI
E-LEARNING PROJECT
EDUCATION
HEALTH
CONSTRUCTION OF FAMILY LATRINES
ECONOMIC DEVELOPMENT
WOMEN EMPOWERMENT
SAMAJ SEVA KENDRA