Health
JBGVS community health programme focuses on prevention rather than cure. The entire health programme is divided in 5 parts. They are awareness generation, training, field level delivery, drinking water & sanitation and support to Government schemes.
Mother and Child Care awareness generation programmes are organized on subjects like importance of nutritious food & breast feeding, need for purification of water, harmful effect by use of plastic, HIV / AIDS, Ante Natal & Post Natal Care (ANC & PNC), tackling malnourishment etc. JBGVS supports Integrated Child Development Scheme (ICDS) & National Rural Health Mission (NRHM) to fight the issues of infant, child and maternal mortality.
Various types of health related training programmes like adolescent girls training, preparation of nutritious foods, environmental sanitation etc. are organized in project villages.
Primary health care programme is implemented through Public Health Centres (PHCs). To provide doorstep health care in 25 remote tribal villages in Pune, JBGVS operates a mobile clinic equipped with a doctor, a nurse and medicines. In last one year about 7000 patients have been treated. Specialized health check-up camps are organized in rural areas of Aurangabad & Wardha and critical cases are referred to Kamalnayan Bajaj Hospital and Vinoba Bhave hospital respectively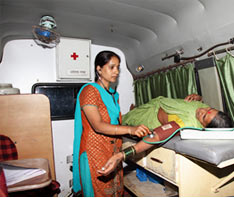 Mobile clinic van
Construction of Family Latrines - As a tribute to Late Shri Jamnalal Bajaj on his 150th birth anniversary we constructed 1375 family latrines and also made his birth place, Kashi ka bas village in Sikar Distt of Rajasthan, free of open defecation. Over the years, JBGVS has constructed more than 16000 family latrines and ensured that every school in their villages has a separate sanitation complex for boys & girls.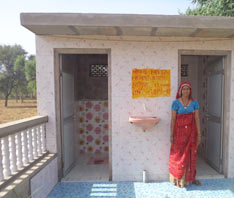 Family Toilet