SELF RELIANCE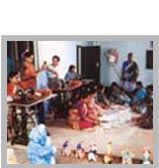 Jamnalal Bajaj Seva Trust
Soon after the demise of Jamnalalji in 1942, as per his wishes, the first charitable trust, Jamnalal Bajaj Seva Trust was established. With an initial corpus of Rs. 500,000, that was, Jamnalalji's entire share in the family wealth. Gandhiji himself drafted the Memorandum and Articles of Association of the trust and finalized its objectives.
Initially, the trust assisted Sarvodaya workers and Gandhian constructive programmes.
In 1960, at the suggestion of Acharya Vinoba Bhave, the trust purchased about 400 acres of land on the outskirts of Bangalore to establish an International Sarvodaya Centre-Vishwaneedam. For promoting agriculture, dairy development, rural development and training local women and youth for self-employment.
In 1961, the trust made a donation to the University of Mumbai for estab.lishing the first management institute in Mumbai, the Jamnalar Bajaj Institute of Management Studies.
The trust also looks after the maintenance of Bajajwadi at Wardha. Which was a national guest house in the pre-independence days. At Jamnalalji's instance, Gandhiji came to stay in Wardha. Soon, Wardha became the centre of Gandhiji's constructive and political activities. Eminent national leaders from allover the country used to stay in Bajajwadi, whenever they would come to meet Gandhiji. Also, meetings of the Congress Working Committee were held here. The Bajajwadi today reverberates memories of that historic period of our freedom struggle.
The trust has also been contributing its share to the promotion of arts and culture through the Kamalnayan Bajaj Hall and Art Gallery. Exhibitions, handicrafts display as well as corporate meetings, conferences and seminars are common activities inside the Kamalnayan Bajaj Hall. The art gallery is used to display the artistic works of painters and sculptors. The art gallery also provides an opportunity to budding artists to showcase their talents.