SELF RELIANCE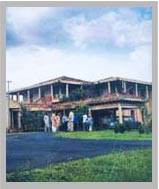 Institute of Gandhian Studies
An institute that promotes long-term and short-term study courses on Gandhian thoughts and methodology. The Institute of Gandhian Studies was established in memory of Jamnalal Bajaj in October 1987.
The various courses conducted in the campus of the institute or by the institute in different states include:
Long-term courses of 9 months for graduates that involves both theory and practical work.
Short-term residential camps for graduates and post-graduates.
Regional camps in regional languages. For grass root workers as well as university students.
Three months courses for women of constructive workers.
Short term courses for field workers working in rural areas.
The institute organises seminars, consultative meets for Panchayat workers, special courses for women members of the Panchayats and trade union workers.
It conducts a post-graduate diploma course in social work based on Gandhian methods and promotes studies in comparative religion. These courses have attracted participation of students, youth and academicians from countries like the U.S., U.K., Germany, Holland, Norway and many Asian countries.
It houses a library of Gandhian literature, studies and research. Originally conceived by Jamnalal Bajaj, it took concrete shape in 950 with a donation of Rs. 100,000 from Janki Prasad Poddar of Calcutta.
A building was constructed in Wardha to house the centre. Its foundation stone was laid by the President of India, Dr. Rajendra Prasad on 31st December, 1950 and was inaugurated by the Prime Minister Pandit Jawaharlal Nehru on 5th January, 1954