Environment & Natural Resources
Jankidevi Bajaj Gram Vikas Sanstha
WATER CONSERVATION PROJECTS
We have created more than 2 lacs cubic meter of water holding capacity in 40 villages in Maharashtra benefitting about 10,000 families. The Sanstha is also partnering with Maharashtra Government in their prestigious 'Jalyukta Shivar Abhiyan' to make drought free Maharashtra by 2019.
i. Pune - Since 1995 worked on Watershed Development in Model Village Scheme and during 1995 to 2012 in Drought Prone Area Programme (DPAP) making 2 villages tanker free.
ii. Wardha - The focus is on creating ponds by digging nullahs for water & soil conservation. Since 2011 in 23 villages creating 1.48 lacs cubic meter of water holding capacity to ensure year round availability of water.
iii. Aurangabad - Undertook de-silting of existing percolation tanks & cement bunds in 10 villages creating 0.54 lac cubic meter of water holding capacity. Due to these treatments, the water levels in surrounding wells increased by 3-4 ft.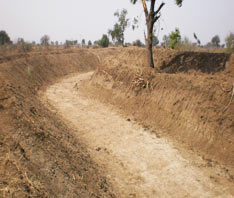 Before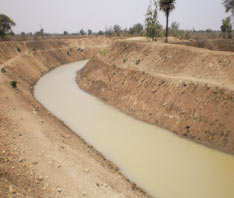 After
Digging of Nullah- Wardha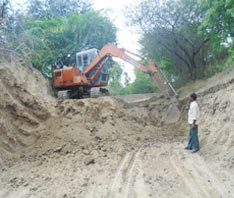 Desilting work-Aurangabad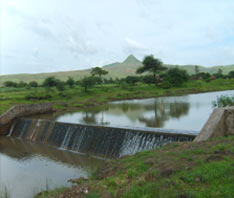 Cement Nullah Bund - DPAP
PROJECT AAMRAI
Since 2009 JBGVS has been implementing a PPP project in partnership with National Bank for Agriculture and Rural Development (NABARD), wherein 900 tribal families have established orchards (mango & aonla) on 1 acre of waste land each and 100 landless tribal families have been given goats, cows, buffaloes etc. to improve livelihood. It is expected to generate yearly income of Rs.6 crores and more from 10th year onwards.
Tree Plantation.
As a tribute to Late Shri Kamalnayan Bajaj in the year of his birth centenary in 2014 alone, 21,000 forestry and 20,300 fruit trees were planted involving farmers, women groups, school children etc. Over the years JBGVS has planted 2,33,000 fruit trees & 20 lacs forest trees.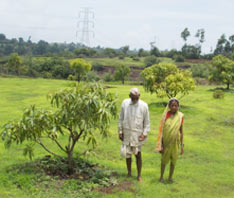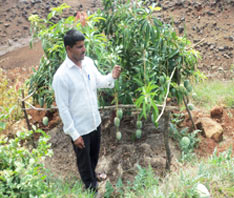 Project Aamrai