KEY FEATURES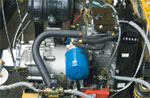 Powered by Japanese Kubota Diesel Engine
Peak Torque & Power at low engine rpm. Oil & Air Cooling of the Engine. Triple Vortex Combustion. Electronic Fuel Pump. Warning Indication for Air Filter Clogging
and Oil Pressure Drop.
Best Load Pulling Ability in the Segment Very Good Mileage & Almost Nil Manitenance.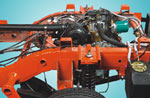 Rugged Chassis & Robust Aggregates
Super Tough Ladder Chassis can Bear Abuse of Loads & Roads
Confidence to Carry More Loads with Least Wear & Tear.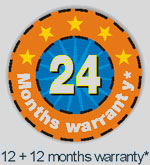 GC Max Reliability;BAJAJ Promise.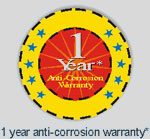 Catholic Electro Deposition Paint Process
Anti Corrosion Coating on Body Panels before Painting which Prevents Corrosion of Body Parts.
1 Year Anti-Corrosion Warranty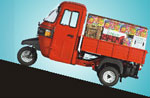 Wheelbase of 2025mm, which is the highest in its category. Lowest rear overhang- 34% of Wheelbase.
No Chance of Vehicle Front Lifting During Loaded Drives on Upslopes.
Drive with Confidence with any Load on any Road Surface. No Front Lifting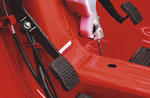 Single Plate Diaphragm Clutch with Foot Actuation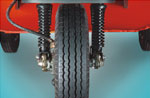 Twin Front Suspension with Antidive Link
Effective Vibration Damping and Smoother Ride
Better Manouverability & Road Grip in Rough Terrains.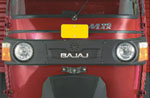 Twin Halogen Headlamp with Multi Focal Reflector
30% More Brightness and Visibility than Ordinary Bulbs
Safe Driving in the Dark.

CUSTOMER CARE
|
call toll free no. 1800 233 2453 or mail us at customerservice@bajajauto.co.in