BAJAJ AUTO BECOMES "BHARAT STAGE III" NORMS COMPLIANT
BAL ACHIEVES BS III NORMS ON ENTIRE 2-WHEELER RANGE
In early March 2010, Bajaj Auto Ltd. once again demonstrated its commitment to green technology by achieving Bharat Stage-III norm compliance for its range of products-the first company to do so. The Bharat Stage III norms, were notified by Government of India on recommendation by Dr R.A. Mashelkar committee for the control of pollution in the country and are applicable across all states.

Bajaj Auto achieved this much before the stated deadline of April 1st, 2010. Bajaj's patented technologies such as DTS-Si and the DTS-i have always been at the forefront of eco-friendliness due to their efficiency and much lowered emissions.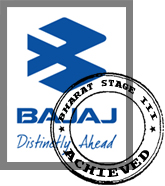 BAJAJ NEWS
|
Watch our MD, Mr. Rajiv Bajaj, discuss the importance of Yoga on account of International Yoga Day. Click to watch!
Pulsar inducted into CNBC Overdrive 'Hall of Fame' for revolutionizing Indian motorcycling
Discover 100 makes new record - over 10 Lakh Bikes Sold in just 15 months
Bajaj Auto gets Chinese patent for ExhausTec technology
Bajaj Auto launches much awaited Kawasaki Ninja 250R − Best 250cc motorcycle in the world
A Quarter of Records for Bajaj Auto − highest ever turnover of 2909 crore, highest ever exports of 224334 vehicles and highest ever net profit of 403 crore.