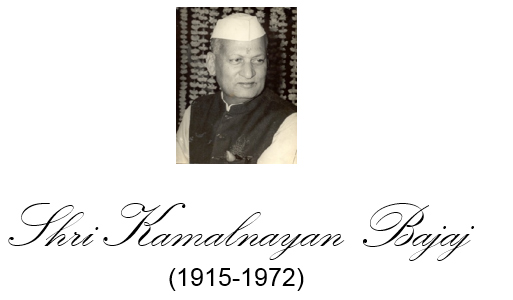 On 23 January 2015, we celebrate the 100th Birth Anniversary of Shri Kamalnayan Bajaj, the founder of Bajaj Auto besides other companies.
Shri Kamalnayan Bajaj had the privilege of being guided by three great souls - his father Shri Jamnalal Bajaj, mentor Mahatma Gandhi and guru Shri Vinoba Bhave. This resulted in his lifelong active involvement in philanthropy and support to various causes in fields of education, medical care, and famine and flood relief.
He was also a politician with a conscience and an independent and original thinker. He fought against the shackles of the British Raj and post-independence was an active parliamentarian for 3 terms.
Simultaneously he also built a business empire. He fuelled the industrialization of free India and her quest for self-reliance. With foresight and a spirit of enterprise he vastly expanded the business interests of the group and planted the seeds of many of the Bajaj companies which flower today. The Bajaj Group expanded into Automobiles, Steel, Engineering, and Electricals under his stewardship.
In every sense of the term he was the Architect of the Bajaj Group. His ethics and philanthropy are what define the Bajaj group and continue to guide us in our businesses.
Shri Kamalnayan Bajaj contribution to the nation, business and society are captured in the video's both in English and Hindi.
To watch the inspirational video biography of Shri Kamalnayan Bajaj in English click here.
To watch the inspirational video biography of Shri Kamalnayan Bajaj in Hindi click here.
Our Chairman Shri Rahul Bajaj has described Shri Kamalnayanji's legacy in the following video: click here to see the interview.
To view the complete book on Shri Kamalnayan Bajaj's legacy, click here.